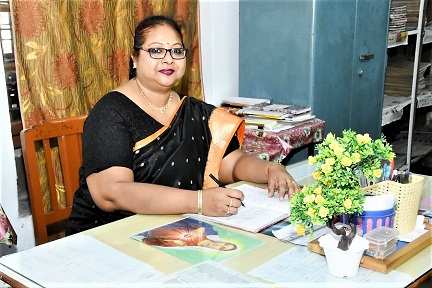 "An investment in knowledge pays the best interest".
The new Academic Session began in April with excitement and enthusiasm filled in the atmosphere. Our mission at Girls' High School and College is to focus on learning for every student every day. The vision here emphasizes the fact that learning is reflected in both achievement and growth. We lay stress on classroom based assessment, participation in extra and co- curricular activities, attendance, discipline and overall development.
We have been intentional in celebrating strengths and identifying opportunities for improvement. We plan to further strengthen this approach in future years.
Establishing a systematic approach and consistent implementation of curricular resources is our aim. In this sphere, the English and Hindi elocutions were held to enhance the oratory skills of the students. Smart classes were held for all the sections which were beneficial to the students and helped them in better concept formation, concept elaboration, improvement in reading skills and academic achievement and also helped them in improving their overall academic performance in school.
Effectiveness of the academic system fetches results when we have achievers who bring laurels with their extra-ordinary academic performance. In I.S.C., Simran Valecha with 98% was the topper among girls in the district. In I.C.S.E., Shatakshi Srivastava secured 97.40%.
The vision of our Principal Rev (Dr) Mrs V. Eusebius has led this institution to glorious heights and under her leadership and guidance this institution will continue to progress and grow.
Mrs. A. Roy
Senior Academic Incharge