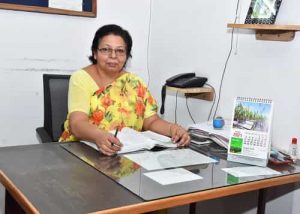 "Proclaim with me the Lord's greatness and let us praise His name together" (Psalms 34, verse 3)
Education is the only means of human empowerment. Girls' High School & College provides students with an education that not only makes them successful professionals but also proud citizens.
Under the able guidance of our Principal Rev. Dr. Vinita Eusebius, our school has achieved great heights. In spite of very difficult times of Covid 19, our school started online classes on Microsoft Teams. Online classes for Class 12th started from 19th April 2021 till date.
Online English classes for Class 11th were conducted from 14th June 2021. From 19th August 2021 teaching of Class 11th started.
Teachers' Day was celebrated on 5th September. Badge holders of 2021-2022 were present in school. Program was also shown online to the students.
Online activities of various clubs were organized on 16th September 2021. Students of Class 6th to 12th participated with great enthusiasm. Results of activities were uploaded on the GHS portal.
Through Microsoft live classes, the teachers taught and interacted with students.
Class 12th students appeared for Online First Semester Internal Examination from 14th October to 20th October 2021.
Our students participated in the Alfresco at Boys' High School & College. They won the First Runners- Up trophy.
In Josephest, our students participated and got Second Runners-Up trophy.
In the end, I would like to express my sincere gratitude to our principal for her continued and timely advice at every step.
I would also like to thank my colleagues for their hard work.
Mrs. A. Lawrence
College Section Coordinator