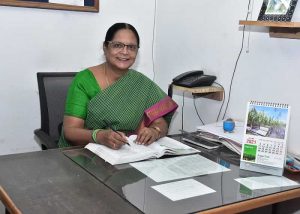 "Give thanks to the Lord, for He is good! His faithful love endures forever" – 1 Chronicles 16:34
As I sit down and try to pen down my experiences of the year gone by, the events of year 2020-21 come like a movie in front of my eyes
We live in a world filled with less than perfect days and unpredictable circumstances. We experience ups and downs and never know what's around the corner. But what we have experienced in the past, over a year's time, none of us had ever dreamt or thought. But still, we
are alive, it's only a miracle.
March 2020 began with the outbreak of COVID-19 pandemic. The whole world came to a standstill. We'd never heard words like lockdown, quarantine, etc. but amidst all of this, Girls' High School and College did not forget its mission – mission to educate and to take care of our girls and even outsiders. We began teaching students through work-sheets, then videos and then through live classes.
Our Principal, Rev. Dr. Vinita Eusebius took the initiative and guided us with new ideas, whether it was conducting classes or helping the needy. She came up with new innovative ideas.
The selection of new office bearers was done online and the club activities were also done online. Students participated whole heartedly. On 5th November 2020 we celebrated our Founder's Day with only core office bearers and staff members and thanked God for enabling us to complete 159 glorious years.
We conducted online tests/exams, both objective and subjective. Board exams also began with physical Viva Voce and practical exams of science subjects but they had to be stopped in between because the second wave of COVID-19 was at its peak and situation became very grim.
Board results were declared on the basis of internal assessment and our girls did excellent. Our results, both in ICSE and ISC 2020-21 were 100%. All glory to God.
At the end I want to express my sincere thanks to our Principal Rev. Dr. V. Eusebius for her able guidance in this difficult situation and to all my co-ordinators for their constant support and cooperation.
"There are only two ways to live our life, one is as though nothing is a miracle. The other is as though everything is a miracle." – Albert Einstein.
God bless our GHS family
Mrs. Anjula Sethna
Co-ordinator Incharge