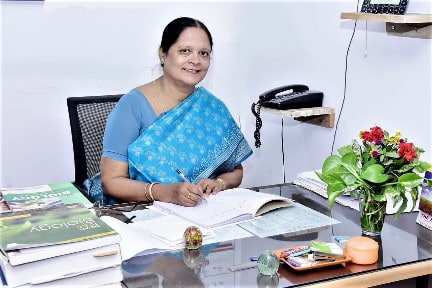 "Not what we say about our blessings, but how we use them, is the measure of our thanks giving" – W.T. Purkinser.
As I sit down and reflect on the year that is almost over, I can only say and quote, "Thank you Lord for being with me and my GHS family" How time flies! It seems just yesterday, when we had to begin our New Academic Session 2019 – 2020 and it's almost over. We have already stepped into 2020.
Time doesn't wait for anyone!
From the very beginning of the new session teaching started in full swing. College had be closed early for summer vacation due to extreme heat, but we reopened on 1st July 19.
In the month of August we had the Installation Ceremony of our newly elected office bearers and Dr. Mrs. Rita Bahuguna Joshi was our Chief Guest for this Ceremony. Her motivating speech encouraged and challenged our students. They wrote their first term exams in the month of August, and in September classes 10th and 12th had their Half Yearly exams. This year there were some unexpected holidays due to floods in Prayagraj, in the month of September. We had our Annual Sports on 2nd and 3rd Nov, 2019. Students and teachers worked very hard and put a beautiful show including March Past, drills, Taekwondo and races. For 2nd November Honourable Union Minister Mukhtar Abbas Nagvi was the Chief Guest, he also inaugurated our E-Library, which is first of its kind, among the schools of Prayagraj. On 5th November School celebrated its 158th Founder's Day along with Boys' High School and College. Our students also participated in Alfresco 2019 and bagged the 1st runners up shield. By the end of November students were ready to write their Half Yearly exams and Board classes had their preliminary exams. Teachers left no stone unturned to complete their syllabus along with all these activities. We had a short but a very meaningful Christmas programme for our students and Karmcharies, before we closed down for Christmas on 18th Dec, 19. Before winter vacations Four Badge holders, a team of Co-ordinators and supervisors visited the Paediatric Cancer ward of Kamla Nehru Regional Cancer Institute and the Blind School for Girls, seen by Catholic Church at Sadhna Sadan. We shared the joy of Christmas with these children. It was a heart touching experience for all of us. At this point, before I end my report, I wish to express my sincere thanks to our Principal Rev. Dr. Vinita Eusebius for her constant encouragement and for inculcating a spirit of giving and sharing, among all of us. Our visit to these hospitals and shelter homes, leaves a long lasting impact in the hearts of our students and staff members. I also wish to thank all my co-ordinators and teachers for their constant support and my only prayer is that in the days to come our school shall reach to heights in every sphere of life.
God bless GHS!!
God bless GHS family!!
Mrs. Anjula Sethna
Co-ordinator Incharge