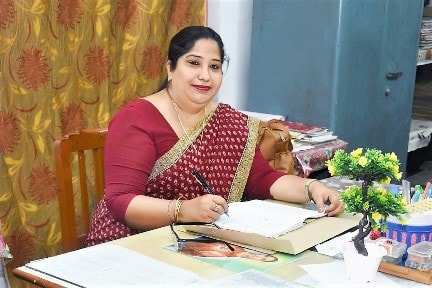 "The aim of education is the knowledge, not of facts but of values." – William Ralph Inge
Learning is the process of constantly updating in an ever changing world.
Learning at our school is based on the fundamental principles of life, teaching children to be confident, disciplined, responsible and loyal. We are able to achieve these fundamental principles because of the able guidance and encouragement of our Principal Rev. Dr. (Mrs.) Vinita Eusebius. In the beginning of the new session 2019-20, the Super Achievers – students who came first in class and got three subject prizes (classes 6 to 8) were honoured and given school bags, books and stationary by the Principal. Various activities were held throughout the session. On 5th April 2019, Rotary Grand of Allahabad organised a programme for our students, in which Dr. Shalini Divedi (Gynaecologist – Nazareth Hospital) gave a talk on Personal Hygiene and Cleanliness. Students were highly benefitted by it. On 9th April 2019, Counselling and Activity Programme was conducted for classes 7 & 8 by our College Counsellor, Mrs. Shreya Agarwal. The Hindi and English Elocution displayed the oratory skills of students, held on 26th and 30th July 2019. Independence Day, Republic Day, Teachers' Day, Gandhi Jayanti and Silver Jubilee celebration of four of our staff members was celebrated with great fervour and enthusiasm. This year we had a grand Sports Day celebration on the 2nd and 3rd of November 2019. Honourable Mr. Mukhtar Abbas Naqvi (Cabinet Minister) graced the occasion with his presence on 2nd November 2019 and Honourable Justice Kumar Ajit was the Chief Guest on 3rd November 2019. Our school celebrated the White Gift week from 2nd to 7th December 2019, in which the staff and students donated whole heartedly for the under privileged. On 16th December 2019, Christmas programme was organised for the students, which they enjoyed a lot. On 26th November 2019, we lost a very loving, simple and dedicated colleague, Mrs. I. Das. She will always remain alive in our hearts. To conclude ,I would like to express my sincere thanks to our Principal and to all my colleagues for their whole hearted co-operation and support.
Mrs. B. Chaddha
Middle School Coordinator