ICSE & ISC Toppers
The ICSE & ISC results have once again proved that G.H.S. & College continues with its legacy of educational excellence. The following students maintained the tradition of academic achievements and brought glory to their alma mater. The Principal congratulated all the students for their excellent results especially the merit holders.
ISC Toppers 2023

ICSE Toppers 2023

ISC Toppers 2022

ICSE Toppers 2022

ICSE Toppers 2021

ISC Toppers 2021

ICSE Toppers 2019

ISC Toppers 2019

ICSE Toppers 2018

ISC Toppers 2018

Super Achievers
"All our dreams can come true, if we have the courage to pursue them."
Girls' High School and College is blessed to have students who have the courage, determination and perseverance to achieve their dreams .The students proved their mettle by their exemplary performances in academics .The students who were first in class and got Hindi, English and Maths prizes were recognised as the 'Super Achievers'. Our Principal's mantra of 'I CAN AND I WILL' surely helped them to get a thumping success. They made their alma-mater proud. To encourage and show appreciation, books and stationery were given free of cost to them by the school.
The Super Achievers of the session 2022-23 :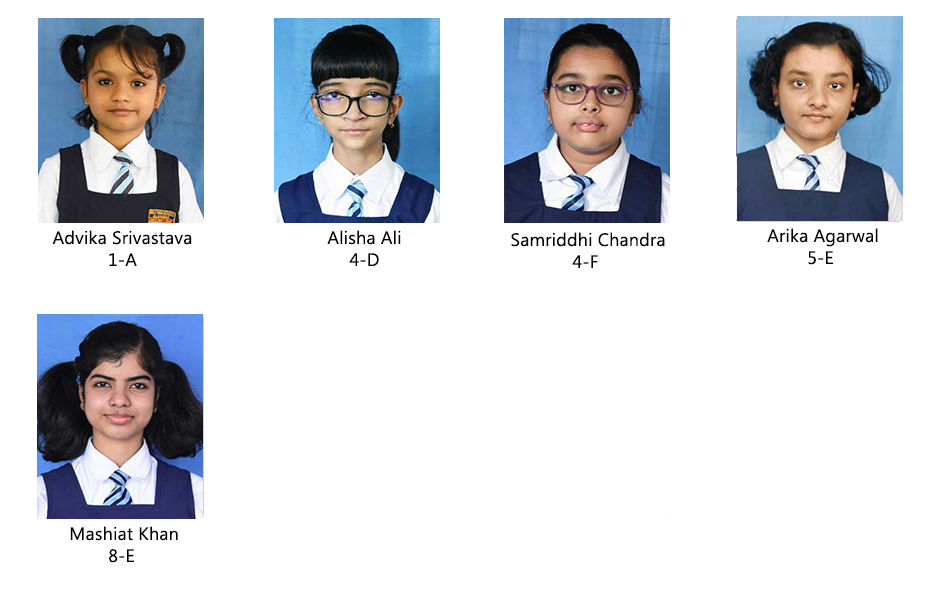 The Super Achievers of the session 2021-22 :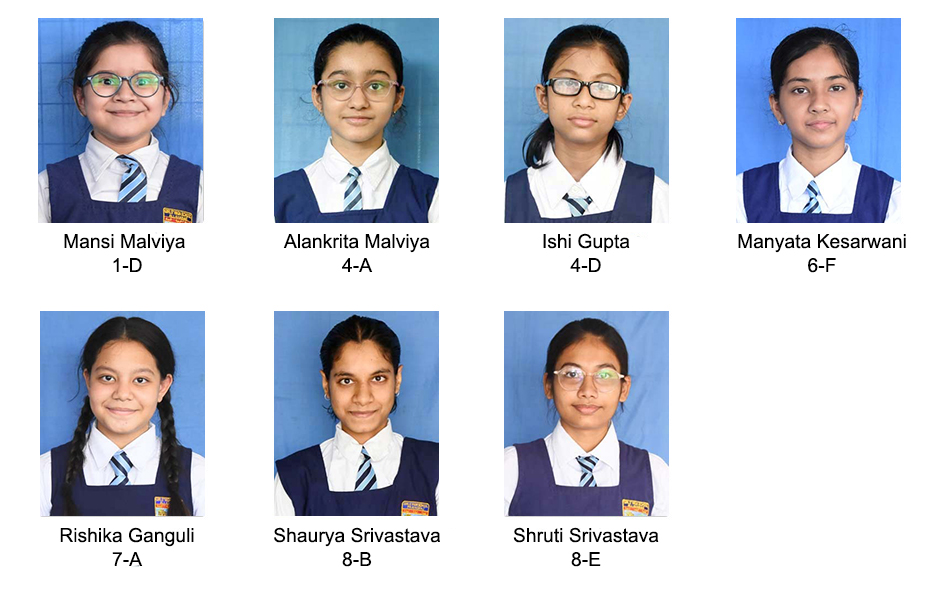 The Super Achievers of the session 2018-19 :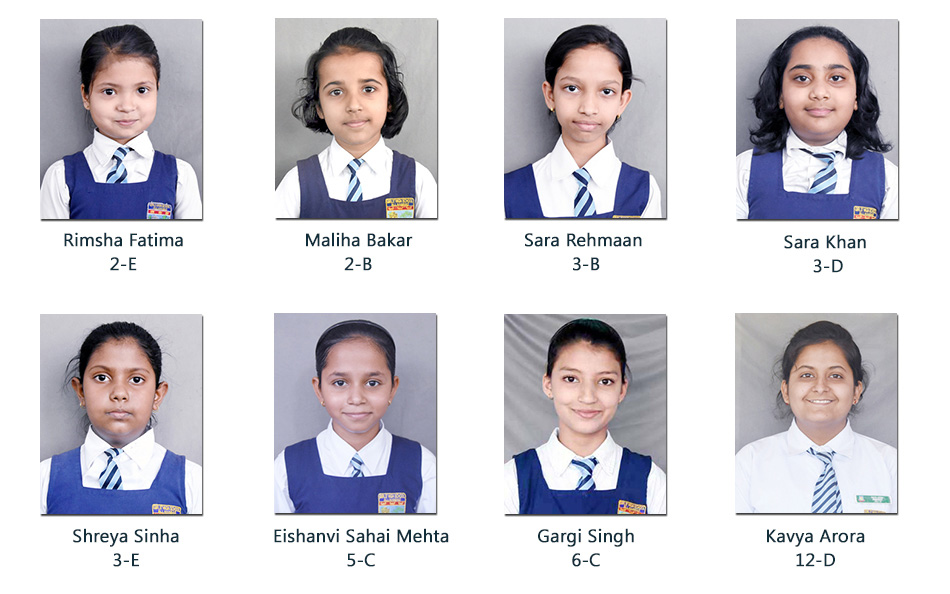 The Super Achievers of the session 2017-18 :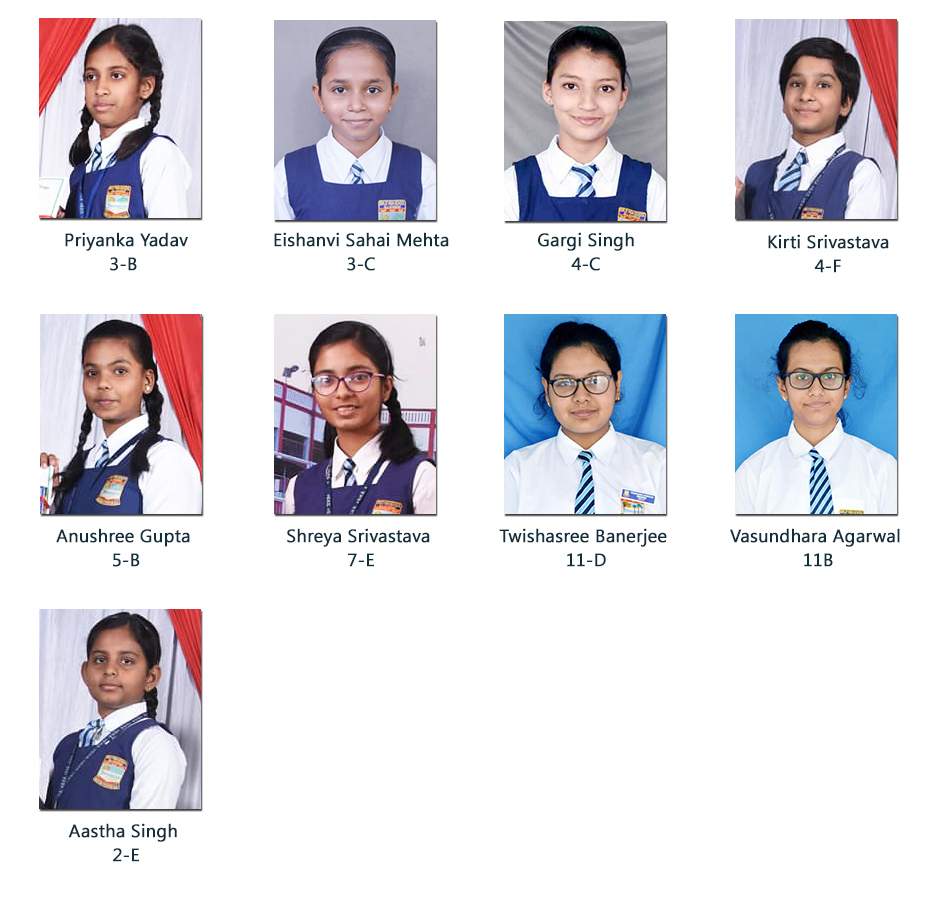 Others
𝘞𝘦 𝘢𝘳𝘦 𝘵𝘩𝘳𝘪𝘭𝘭𝘦𝘥 𝘵𝘰 𝘴𝘩𝘢𝘳𝘦 𝘢 𝘱𝘳𝘰𝘶𝘥 𝘮𝘰𝘮𝘦𝘯𝘵 𝘸𝘪𝘵𝘩 𝘺𝘰𝘶 𝘢𝘭𝘭 𝘢𝘴 𝙉𝙚𝙝𝙖 𝘼𝙜𝙧𝙖𝙬𝙖𝙡, 𝘢𝘯 𝘢𝘭𝘶𝘮𝘯𝘶𝘴 𝘰𝘧 𝘎𝘪𝘳𝘭𝘴' 𝘏𝘪𝘨𝘩 𝘚𝘤𝘩𝘰𝘰𝘭 𝘢𝘯𝘥 𝘊𝘰𝘭𝘭𝘦𝘨𝘦 𝘩𝘢𝘴 𝘱𝘭𝘢𝘺𝘦𝘥 𝘢 𝘱𝘩𝘦𝘯𝘰𝘮𝘦𝘯𝘢𝘭 𝘳𝘰𝘭𝘦 𝘢𝘴 𝘢 𝘴𝘤𝘪𝘦𝘯𝘵𝘪𝘴𝘵 𝘪𝘯 𝘵𝘩𝘦 𝘵𝘦𝘢𝘮 𝘵𝘩𝘢𝘵 𝘴𝘶𝘤𝘤𝘦𝘴𝘴𝘧𝘶𝘭𝘭𝘺 𝘭𝘢𝘶𝘯𝘤𝘩𝘦𝘥 𝗖𝗵𝗮𝗻𝗱𝗿𝗮𝘆𝗮𝗮𝗻 𝟯.
𝘋𝘶𝘳𝘪𝘯𝘨 𝘩𝘦𝘳 𝘵𝘪𝘮𝘦 𝘢𝘵 𝘰𝘶𝘳 𝘴𝘤𝘩𝘰𝘰𝘭, 𝘕𝘦𝘩𝘢 𝘸𝘢𝘴 𝘢𝘭𝘸𝘢𝘺𝘴 𝘢𝘯 𝘦𝘹𝘤𝘦𝘱𝘵𝘪𝘰𝘯𝘢𝘭 𝘴𝘵𝘶𝘥𝘦𝘯𝘵, 𝘥𝘦𝘮𝘰𝘯𝘴𝘵𝘳𝘢𝘵𝘪𝘯𝘨 𝘪𝘯𝘤𝘳𝘦𝘥𝘪𝘣𝘭𝘦 𝘴𝘬𝘪𝘭𝘭, 𝘪𝘯𝘵𝘦𝘭𝘭𝘪𝘨𝘦𝘯𝘤𝘦, 𝘢𝘯𝘥 𝘥𝘦𝘵𝘦𝘳𝘮𝘪𝘯𝘢𝘵𝘪𝘰𝘯. 𝘞𝘦 𝘢𝘳𝘦 𝘧𝘪𝘭𝘭𝘦𝘥 𝘸𝘪𝘵𝘩 𝘪𝘮𝘮𝘦𝘯𝘴𝘦 𝘫𝘰𝘺 𝘢𝘯𝘥 𝘤𝘰𝘯𝘨𝘳𝘢𝘵𝘶𝘭𝘢𝘵𝘦 𝘩𝘦𝘳 𝘧𝘰𝘳 𝘵𝘩𝘪𝘴 𝘳𝘦𝘮𝘢𝘳𝘬𝘢𝘣𝘭𝘦 𝘢𝘤𝘤𝘰𝘮𝘱𝘭𝘪𝘴𝘩𝘮𝘦𝘯𝘵.
𝘞𝘦 𝘢𝘳𝘦 𝘱𝘳𝘰𝘶𝘥 𝘵𝘰 𝘩𝘢𝘷𝘦 𝘣𝘦𝘦𝘯 𝘢 𝘱𝘢𝘳𝘵 𝘰𝘧 𝘩𝘦𝘳 𝘦𝘥𝘶𝘤𝘢𝘵𝘪𝘰𝘯𝘢𝘭 𝘫𝘰𝘶𝘳𝘯𝘦𝘺.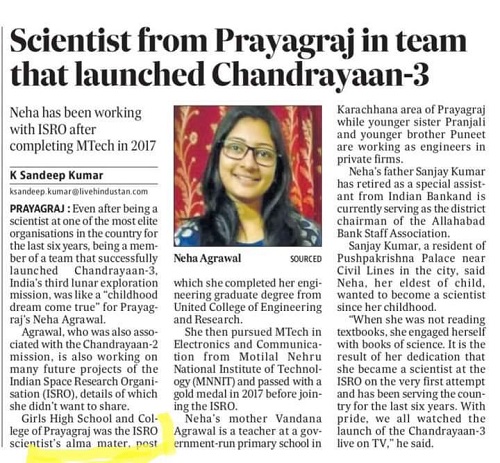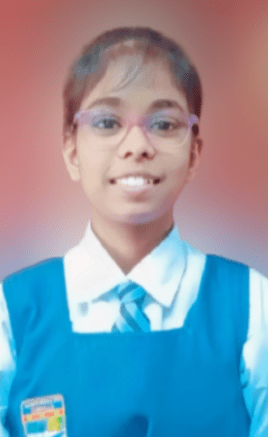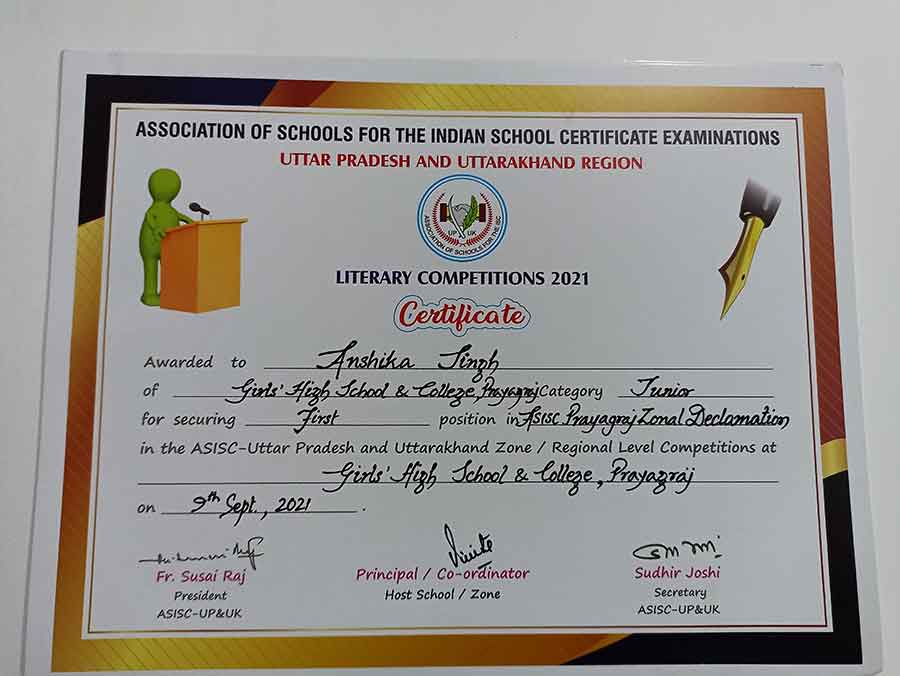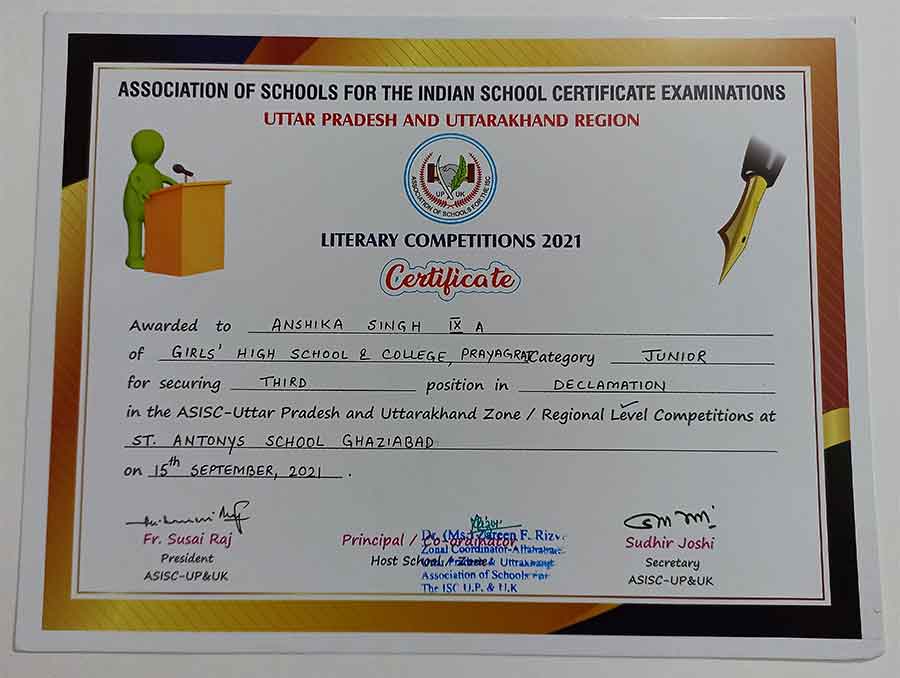 Anshika Singh of class IX A secured first position in ASISC – Prayagraj Zonal Declamation Competition held on 9th September,2021 and third position in Declamation Competition in ASISC – Uttarpradesh and Uttrakhand Zone held on 15th September.
The Auricle of HEX by Ishita Srivastava….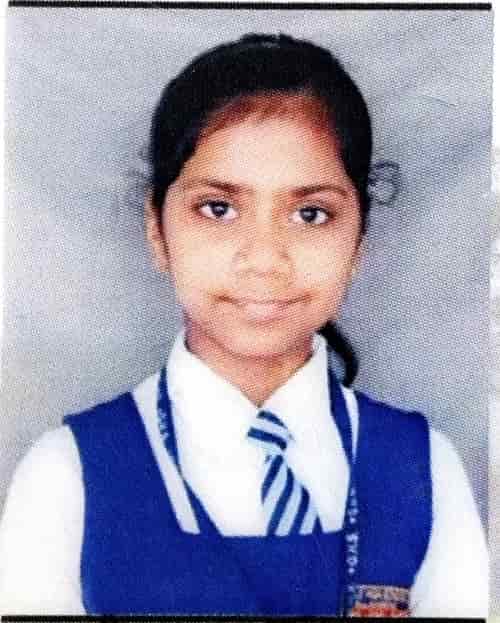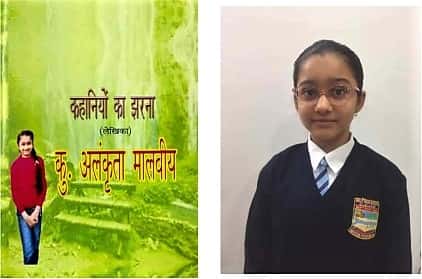 Alankrita Malviya, a student of class 4A has written a book named, "Kahaniyon Ka Jharna" which got published in 2021.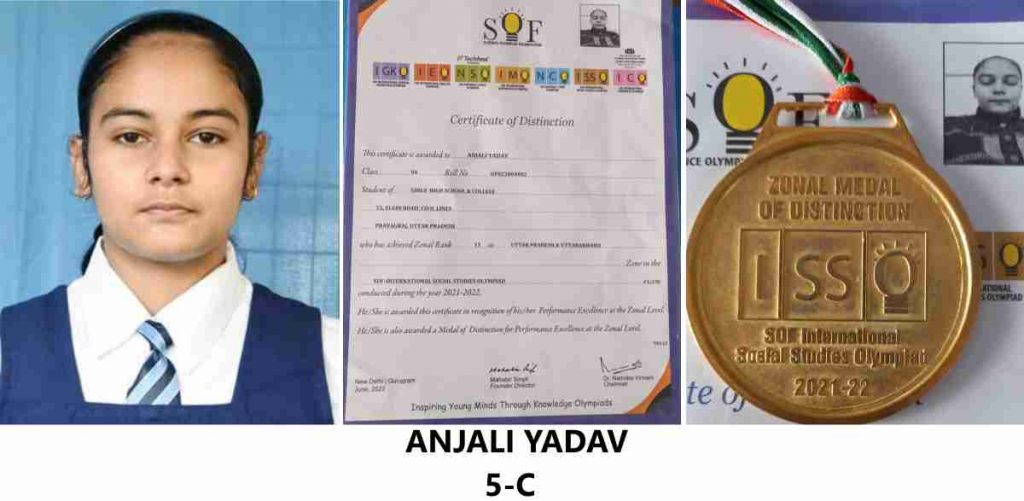 Anjali Yadav of 5C secured All India Rank 11 with distinction in International Social Studies Olympiad.