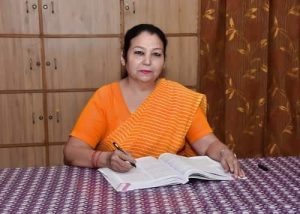 As I take the first few steps as co-ordinator, l feel immensely grateful for having been given this opportunity. I strongly believe that this position holds a lot of responsibilities and it's a herculean task, but this became easier with help, support and prayers.
Pre-school years are the most important years of a child's life. Children reach milestones that impact their future learning. We, as teachers are responsible in laying the foundation for their success, both academically and personally throughout life. We need to ensure that while we inculcate right values, discipline and etiquettes, we also retain the innocence of their childhood.
In these hard times, when Covid has overpowered everything, we did not give up but worked continuously towards our goal of imparting education. For instance, even during the virtual classes, we tried our best to give attention and personal care to our students. We did not compromise with the situation and tried relentlessly to mould and shape our students' lives beautifully, so that they blossom gracefully wherever they are planted.
I am extremely grateful to my Principal Rev. Dr. Mrs. V. Eusebius for having trust in me and giving me this opportunity to serve as a co-ordinator of the Pre-Primary Section.
I would also like to thank my teachers for rendering their unconditional support. I pay my gratitude to the parents for having trust in us and giving us full support. Last but not the least I would like to thank the Almighty God for His blessings. I end with this beautiful quote: "Education is the key to success in life, and teachers make a lasting impact in the future of their students."
Mrs. D Evans
Nursery & Pre Primary Section