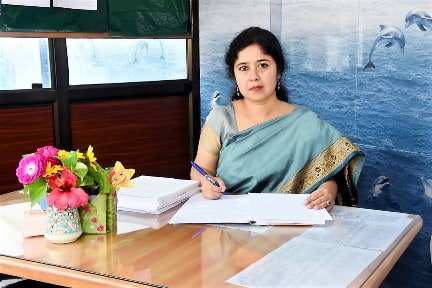 I joined the Girls' High School and College, Allahabad in April 2006, and needless to say, it is a journey that I am both delighted as well as honoured to be making. True education, in my opinion, is that which combines the elements of academic excellence with a larger social sensitivity that is founded on the principles of honesty, integrity and compassion. And these, I believe, are values that the Girls' High School and College exemplifies. In a world increasingly plagued by intolerance, insecurities, bitterness and violence, I believe our students stand out as proud and successful symbols of alternative narratives. As educators it is our responsibility to endeavour to guide and mould our students into capable citizens of tomorrow – into young women who live up to the highest standards of personal honour, and who combine within themselves the qualities of both intellect and empathy, knowledge and sensitivity, individuality and collaboration. This holistic synthesis, I believe, is what the Girls' High School stands for and it is to this inspiring tradition of education that I consider myself privileged to belong.
A thought that crosses the mind of every person who either visits or works in Junior School is, "Children make you want to start life over".
Our Junior School building has a happy ambience of love and care. The sparkling eyes of curious and eager children engrossed in the classroom, or pursuing an extra-curricular activity during school hours, make the place hum with purpose. Their quick feet on the staircase, their gurgles of laughter, their happy chatter, their quest to give each day their very best, provide a heady motivation for the talented and committed teachers who continue to make the Junior School a place that children love.
The Junior School years of Classes 1, 2 and 3 are like a kaleidoscope of myriad experiences, where textbooks are complemented by projects, excursions, talks, movies, exhibitions, plays and much more. We aim to not only impart the necessary academic skills, but to help our children grow up to be happy enthusiastic and confident girls, with lasting bonds of friendship. For it is so true that, "What we remember from our childhood we remember forever".
Our supportive and committed parents are a boon. Our responsible and caring staff are true assets.
From strokes to straight lines, rhymes to poems, play time to homework time, a significant transition it is, from Nursery to Primary. Fun, activity, adjustment mark the nursery stage but at primary level a giant leap to reading, writing – a comprehensive academic training ensues. At Girls' High School, a playful push from the kindergarten paves way for a heart-warming embrace from the primary teachers. Concern, consideration and care make life in primary a home away from home with constant monitoring, coaching and mentoring at every step.
ACADEMIC PROCESS
In today's age of competition and rivalry, values are eroding. There is a total decadence in social and moral values.
What is taught in school leaves a deep impression in the tender minds. Thus moral education is vital and cannot be overlooked.
Teaching of moral values at primary level is not restricted to "Moral Science" class or "Value Education" period. Whether it is English, Science or even Mathematics, moral values are integrated into the lessons. The student thus inculcates the values of kindness, being helpful, fair and polite while learning different subjects.
Discerning the difference between right and wrong is of vital importance to children of present day.
Hands – On Activity
Academics is fruitful only when the knowledge to be gained is put to practical use. To create the understanding of terms and concepts apart from clear explanation, many   teaching aids such as charts, diagrams, models, maps, and globe and so on are shown and explained to children.
Make and do sessions are also held in school for children, where they are given a chance to do on their own, certain activities such as, sowing the seeds, understanding the concept of numbers using ice-cream sticks etc.
Children are taught time-management, goal-setting, teamwork, problem-solving, analytical-thinking, leadership, public speaking by means of activities such as quizzes, what's the good word, picture reading, create a new you, word puzzles especially designed to incorporate all skills.
These activities conducted effectively​ by the teachers during the zero period serve many valuable purposes. They give learners scaffolding support, opportunities to create, the most important – confidence.
I deeply extend my heartfelt gratitude to my Principal, Rev. Dr. (Mrs.) V. Eusebius, who is a great visionary and has most effectively spearheaded the school. I take this opportunity to thank her for having bestowed her faith and confidence in me, which shall remain to be my driving force.
Ms. Surabhi Bahuguna
Junior Section Co-ordinator,
Classes1,2 and 3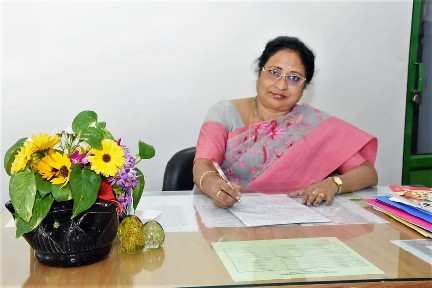 "Children are a gift from the Lord; they are a reward from him"Psalm 127:3
We as teachers play a crucial role in shaping the lives of children. Making this process of learning a reality, the teacher plays a complex set of roles. The New Session 2019-2020 began with much hope and anticipation for a fresh start. With my several years of teaching experience which includes 13 years as the co-coordinator of the Junior School, I took this challenge for yet another year as the coordinator for classes 4 and 5, along with the added responsibility of Academic Coordinator.
The Session commenced from 2nd April, 2019 and the first academic activity was the English and Hindi
Elocution held on 25th and 29th July, 2019 respectively. This has always given the children an opportunity to display their oratory skills.
The Investiture Ceremony was another big event held to assign responsibilities to the young leaders. Students from classes 4th and 5th were selected by our Principal and given the posts of Head Girl, School Captain, four House Captains and Prefects for the Junior School.
While books teach you subjects, sports teaches your life and everything about it. Sports builds character, fighting spirit, teaches team work, humility, discipline and never -say-die attitude. The Annual Sports Day was held on two consecutive days – 2nd and 3rd November, 2019 where students participated in the customized and fun-filled track and field events.
Founder's Day was observed on 5th November, 2019, in remembrance of our Founders; to celebrate their lives and vision under the leadership of our Principal Rev. Dr. (Mrs).V Eusebius. The programme was held at the All Saints Cathedral Church with a Worship and Thanksgiving service. We thanked God for taking our College to greater heights in this 158th year of its existence.
With the advent of the Christmas Season, White Gift Week was observed where students contributed generously for the underprivileged. It was a great opportunity for our kids to show their love and compassion for them during this festive season. This was followed by festivities to celebrate the birth of our Lord and Saviour Jesus Christ on 16th and 17th December, 2019.
As we entered the New Year 2020, Bal Mela was held on 1st February, a time when the children enjoyed and learnt sharing. It was a time full of fun and lots of games & eatables for everyone.
Children are not things to be moulded, but are people to be unfolded" – Jess Lair
Prize Day, an event to honour the little budding stars for their hard labour could not be held this year, as the government had declared a nationwide Lockdown due to the Covid-19 pandemic. Even the Super Achievers could not be rewarded for the same reason.
As I conclude, my sincere thanks to our ever dynamic Principal Rev. Dr. (Mrs) V Eusebius, for her constant support, encouragement, guidance and motivation at all times. Our institution has reached greater heights under her leadership in the past years. I would like to appreciate the effort, hard work and unconditional support of the teachers, students, parents and office staff. Last but not the least, my heartfelt thanks to all the support staff for working tirelessly with me at every step.
Mrs. S. Y.  John
Junior Section Coordinator
Classes- IV & V