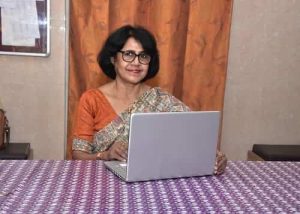 "When something is important enough, you do it even if the odds are not in your favor." – Elon Musk
The academic session of 2020-2021 began clouded in despair and hopelessness due to the corona pandemic. The world seemed to have gone haywire – schools were closed, people were restricted to their houses – it seemed like nothing would ever be normal again.
Teaching institutions all over the world were closed and this posed some serious questions – "How will students be taught in the current academic session if they cannot come to school? What would be the effect of this pandemic on a student's academic?".
"We can and we will."- A motto GHS has passionately followed under the leadership of our Principal, Rev. Dr. V. Eusebius and a motto that was encouraged even during this harsh time allowed us to move forward. The school ensured that the learning process never stopped by finding new, innovative ways to reach out to the children. Videos of various subjects were uploaded, notes and assignments were sent to the children via the school website and with every passing month in the pandemic, the school relentlessly worked to develop a new way to ensure that the students did not suffer due to the lack of educational facilities in any way. Students and parents were also taught how to use the websites, the portals and other apps so that the students did not suffer.
The pandemic came as a shock to everyone but it was quite hard for the younger students who could not quite understand why they were not allowed to go to school or meet their new classmates. The school, keeping in mind the mental health of the students, started sending out 'De-stress videos' and this also enabled the students to connect and participate in school activities. Events like Republic Day and Independence Day were held and the video of these were made available to the students so that they did not feel like they missed out. With time, GHS started online classes and ensured much more communication between the students and the teachers.
'Where there is hope, there is faith. Where there is faith, miracles happen.'
With this in mind during these times, GHS has moved forward and achieved higher level of excellence. All of this would not have been possible without the dynamic leadership of our Principal, Rev. Dr. V. Eusebius. Last but not the least, to all the teachers and everyone who is a part of the GHS family, my sincere thank you for working together and being a part of the good things that were created during this chaotic time.
Ms. E. Banerjee
Co-ordinator (Classes : 1,2,3)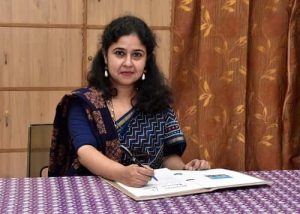 "Ups and downs in life are very important to keep us going because a straight line in an ECG means we are not alive…" – RATAN TATA
It has been a year of triumph and turbulence, a year of hope and despair. A year where we have learnt that life doesn't get easier or more forgiving, it is we who get stronger and become more resilient.
The normal becoming NEW normal. A year that has taught us that 'Nature' heals and balances everything.
A year which has strengthened family relationships. It was a challenging year for all of us, especially for teachers…. who had to move from blackboard teaching to online teaching and they, like true GHSians, sailed smoothly.
During this time, we have gone to incredible lengths to help our students and in the process made the teaching- learning a fun activity. From embracing remote learning opportunities to providing mental and emotional support to every child in our care, we have moved ahead with your indomitable spirit.
We wish to congratulate all our students for partnering their teachers in overcoming their fears of technology and supporting them whole heartedly. There remained a connect between the students and their loving teachers. Not to mention, the Forbidden Smart phones became the most powerful tool in learning and were used to  the best of our ability.
Our Principal, Rev.Dr.Mrs.Vinita Eusebius had no doubt about what needed to be done. Her clarity of thought gave each one of us hope and a reason to feel safe again. I don't have a recollection of the number of online meetings she had with us, to discuss virtual classes, online counselling, e content to support academics etc.
The very fact that Girls' High School and College is a school with a heart, paved the way for innovations and initiatives. This time has been a blessing in disguise in many ways. We were pushed beyond our limits to try out things we never could or ever thought of doing….yet we did. Many mental barriers were broken….from 'I could never' to I CAN! Our relationships strengthened. This time brought us all emotionally closer to each other. The relationship between the school, teachers, parents, children and alumni strengthened like never before.
As we all now know, the pandemic was not a short-lived interference in our lives; we are therefore committed to ensuring that all students can learn and that those who've fallen behind can make up ground this year.
In the end I would like to quote Samuel Beckett who famously remarked, 'Ever tried. Ever failed. No matter. Try Again. Fail Again. Fail Better'. Failure is the best teacher of all and learning from our mistakes, the zeal for constant improvement, is what makes us better.
May God's grace and wisdom and our Principal,Rev.Dr.V. Eusebius' unshakeable spirit continue to guide and lead us.
Ms.Surabhi Bahuguna
Co-ordinator (Classes : 4 & 5)