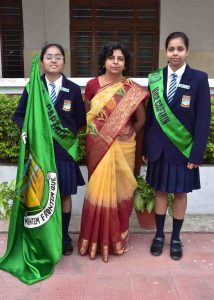 | | | |
| --- | --- | --- |
| House Mistress | : | Ms. N Eusebius |
| Captain | : | Ayushi Mishra |
| Vice Captain | : | Dakshita Singh. |
"It's your place in the world; It's your life.Go on and do all you can
with it, and make the life you want to live"
– Mae Jemison"
The greatest glory of Bailey House is not in never falling but in rising every time we fall. Its green colour symbolizes prosperity and harmony. Our house is very determined to be the best and striving to attain the task. Bailey house has always showed the spirit of ' never-say-die' which always helps us in bringing laurels to the House.
The academic year 2021- 2022 brought with it new hopes, new aspirations, new commitments and many more victories to follow. On our 75th Independence Day this year I was given the responsibility of being the Green House Captain, conjointly with the Green House Vice Captain- Dakshita Singh and the Green House Prefects – Akshita Chaubey, Devanshi Chandani,Garima Singh and Huraira Rahemeen. We took the oath to carry forth the responsibilities of being Captain, Vice Captain and Prefects and to always keep the flag of Bailey House flying high. We were encouraged and constantly motivated by our principal. She showered us with her countless blessings.
The Founders' Day marked a significant milestone in the 160th year old history of the school, the Girls' High School and College community, and the lives of those who were and are privileged to be a part of this prestigious institution. The 160th Founders' Day was celebrated on 5th November, 2021. We along with Boys' High school led by our teachers marched to the AllSaints' Cathedral in total uniformity in our house column. The ceremony began with the prayer. The prayer and hymns by the choir rented the air inside the Church with divinity and soulfulness. The atmosphere inside the Church was solemn and deeply expressive of the gratitude to the Almighty. It was a moment of great pride for me to be present on such an auspicious occasion and represent our Bailey House with great dignity.
The years 2020-2021 and 2021-2022 have been very different and full of hardships because of the widespread COVID – 19 that presented an unprecedented challenge to public health. But even during these difficult times the students didn't lose hope and did not allow the virus to control them but instead sincerely followed the advice of our respected Principal – Rev. Dr. Mrs. Vinita Eusebius of practicing yoga and doing exercises which not only kept them stable physically but also mentally.
I would like to express my special thanks to our Principal Rev. Dr. Mrs. Vinita Eusebius for her constant support, blessings and guidance. On behalf of my entire Green House team, I would like to thank our House Mistress Ms. N. Eusebius, our Asst. House. Mistress Mrs. P.G. Singhand other Green House teachers for their constant support and guidance, without whom any achievement wouldn't have been possible. Lastly, I would like to thank my Vice Captain and all the four prefects for their sincere effort and dedication towards the house.
At last, I would like to quote some words by Dr. Steve Maraboli- " Live your truth. Express your love. Share enthusiasm. Take action towards your dreams. Walk your talk. Dance and sing to your music. Embrace your blessings. Make today. worth remembering."
Ayushi Mishra
Bailey House Captain (2021-2022)