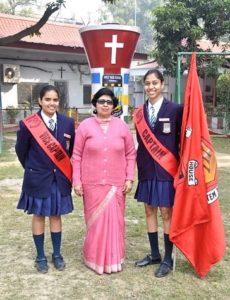 | | | |
| --- | --- | --- |
| House Mistress | : | Mrs B. Benedict |
| Captain | : | Vidushi Sharma |
| Vice Captain | : | Ojasvi Singh |
"Ambition is a pathway to success and persistence is the vehicle we arise in"
If one has the qualities of courage, determination and preservance, there is no goal which is unattainable.
The Knox House, popularly known as the Red House showed all these virtues in the truest sense.
The session 2019-20 began with the solemn ceremony of investiture on 13th August, 2019 where I was chosen to carry forth the responsibilities of the Knox house as the captain for the session. The moment I took the oath I promised myself to keep the Red House flag flying high. After this prestigious occasion began the plethora of activities that kept use busy all through the year. The Inter House swimming competition was held in August which did not prove good for us as we came fourth in the event, but we did not lose hope and with dedication and hard work ,showed commendable competence in the Inter House basketball and volleyball competitions. In Basketball senior category and Volleyball junior category we emerged as the winners. Alish Sagar received the 'Best Player' award in basketball senior category. Next came the most important and much awaited event of the year The Annual Sports Day. In various track and field events, our girls left no stone unturned to give their best. We bagged the first and the third position in the senior and junior relay. Alish Sagar received the 'Best Athlete of the year' award. We also bagged the Marching shield and were runners up in Tug-O-War. The girls of our house displayed wonderful P.T. and won many hearts. Then came the most awaited moment when the Knox house was declared the overall winner and was given the Championship shield, hence continued being the 'Cock House'. I would like to thank each and every member associated with our house for their full support and cooperation. I,on behalf of the entire Red House would like to extend my sincere vote of thanks to our Principal Rev. Dr. (Mrs.) Vinita Eusebius, our House Mistress Mrs. B. Benedict, Asst. House Mistress Mrs. R. Shepherd for their unconditional support and motivation. I would also like to thank all the Red House teachers who were involved in different activities for their support and tireless effort, and a special thanks to my Vice Captain Ojasvi Singh and to my prefects Zehra Khalid, Aliza Rizvi, Mariyam Siddiqui and Samriddhi Dubey for their dedication towards the house. I hope that Red House girls never forget that "Efforts Spell Success" and will continue to rise to greater heights of glory.