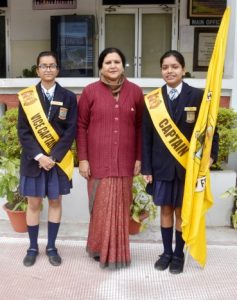 | | | |
| --- | --- | --- |
| House Mistress | : | Dr. (Mrs.) A. Tiwari |
| Captain | : | Jayantika basu |
| Vice Captain | : | Roza Sharma |
"People who try to do something and fail are few indefinitely better than those who try to do nothing and succeed"
Ideology, innovation and discipline are the three factors which determine what lies ahead of you, in your life and for the Jahan's House, the academic year 2019-20 was a perfect blend of all these factors.
Following this idealistic virtue, the miraculous year, 2019-20 embarked with the investiture ceremony on 13th August, where I was selected as the Jahan's House Captain. This ceremony brought both honour and responsibility on my shoulders.
The first event was the Inter – House swimming competition held on 3rd of September where we easily bagged the swimming shield, the credit of which goes to the hard labour and busting performance of Kaashni Chawla, Chestha Yadav, Manasvi Singh and others.
The next were the Inter – House Basketball and Volleyball competitions, held on the 20th of October. Our players performed really well and we were the runners up in the volleyball juniors and seniors and also in Basketball junior match.
Then came the spectacular Sports Day held on 2nd of November, in which our house put up a remarkable show and displayed the true spirit of sportsmanship. We won a number of medals in throws and we bagged the 2nd position in the inter house relay, the effort of Mrs. N. L. Singh and our racers Apoorva Gopal, Iqra Shahid , Anchal Singh and Shreya Kesarwani were remarkable. The girls of our house displayed a stupendous and prodigious P.T. under the guidance of Mrs. A. Dwivedi, Mrs. A. Tiwari, Mrs. R. Bose, Mrs. N. Lal and other respected teachers. Though it was unfortunate this year, we did not win the shield, but we definitely won hearts by our performance.
I would like to express my special gratitude to our Principal Rev. Dr. (Mrs.) V. Eusebius, Mrs. H. Verma, Mrs. A. Sethna and Mrs. A. Lawrence for their constant support, blessings and guidance.
I would like to thank the House Mistress Mrs. A. Tiwari, Assistant House Mistress Mrs. R. Bose, Mrs. N.L. Singh, Mr. Argal, Mrs. A. Simon, Mrs. J. Wesley and all the teachers of Jahans House for being the backbone of the house and encouraging us every day to work towards success.
A very special thank you to the vice-captain Roja Sharma for being the perfect partner in all the efforts and the prefects, Apoorva Gopal, Vaidehi Singh, Shreya Vohra, Zama Rizvi and Bhavya Jain for being an amazing team.
In the end, I wish both my house and Alma Mater, to rise and shine and reach the zenith of glory through achievements in academics and sports.
"Not all of us can do great things but we can do small things with great love and dedication." – Mother Teresa