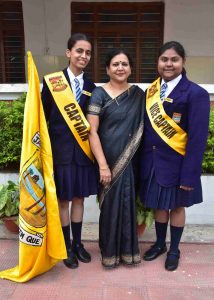 | | | |
| --- | --- | --- |
| House Mistress | : | Dr. (Mrs.) A. Tiwari |
| Captain | : | VELA SAYEED |
| Vice Captain | : | Esther Chintamani |
"The greatest glory is not in never falling but in rising every time we fall."
"You can't go back and change the beginning but you can start where you are and change the ending."
The house system is of great importance to school life. Its function is to inculcate the spirit of competition and encourage students' overall development.
The Jahans House, popularly known as Yellow House believes that without continual growth and adapting new changes, improvement and success has no meaning.
The year 2021-2022 was a tough one but still the tough got going and all the credit goes to my Principal Rev. Dr (Mrs) V.Eusebius. She inspired the school and motivated the students and the teachers in these dark times of the pandemic. She kept in constant touch and teaching went on systematically.
Following the idealistic virtues, the school celebrated Independence Day on 15th August with pomp and show following the COVID-19 protocol. On this day the office bearers for the session 2021-2022 were appointed and I was selected as the Yellow House Captain under the able guidance of my House Mistress Dr (Mrs) Anandita Tiwari and Assistant House Mistress Mrs Rajni Bose.
After this occasion several other activities were held online to keep the children involved. On 4th September we celebrated the Teachers' Day, 8th November was the Founder's Day the much awaited event. Jahans House along with other houses marched till the church in perfect coordination.
I would like to express my special gratitude to our principal Rev Dr (Mrs)V.Eusebius for her encouraging words and countless blessings. I also want to express my thanks to Mrs.A.Sethna, Mrs.A.Lawrence for their blessings and guidance.
I am also thankful to my House Mistress Dr (Mrs)A.Tiwari, Assistant House Mistress Mrs.R.Bose, Mrs.N.Lal, Mrs.A.Gupta, Mrs.N.L.Singh and all other teachers of Jahans House for encouraging and guiding us.
Last but not the least I thank my Vice Captain Esther Chintamani, my prefects Kaashvi Chawla, Maithili, Divyanshi Khatri, Pallavi Rai and all my House family for their co-operation and coordination.
We believe, "With time and patience the mulberry leaf becomes a silk worm."